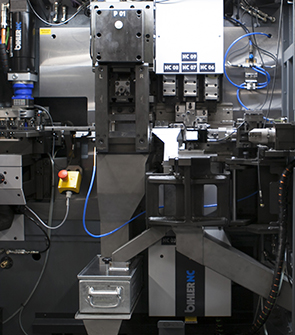 Bihler and BKM
With two new BNC 2-servo production systems, BKM has successfully achieved the transition from using mechanical MRP machines to high-performance Bihler servo technology.
This switchover will allow our performance capability increase by over 50% – and in doing so secure us a long-term key advantage over our competitors. The best example here is the production of clips/ from pre-tempered strip steel: These can now be made at 290 strokes per minute, instead of 150.
The new technology also means we can cut set-up times down from several days to an average of 3 hours. The servo-controlled drives of the new systems thus guarantee required precision levels and provide reliable, all-round product quality, to an unprecedented level of perfection.
We also expect the BNC 2 systems to pay off in terms of production runs of over 500,000 pieces per production batch. At the same, the shorter set-up process makes it possible to fit in small-batch production runs, almost as and when required. This gives us significant flexibility in terms of order processing while also saving on storage costs. The prospects of developing this collaboration further look good. Two more BNC 2 systems are already being planned.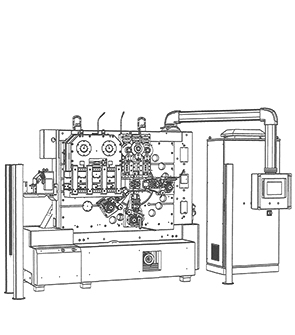 Laser welding –
new at BKM
In 2015, we established laser welding as a central pillar of our operations. We currently have 2 laser welding systems, with a third one in the pipeline. Our 60W output machine is used for welding work for prototypes and small-batch production. The second system, with an output of 150W, is currently incorporated in a Bihler RM40K punching machine. The application features 2 beam outlets and is linked to the system control unit. We currently use this technology to weld rings and sleeves using unalloyed steels and stainless steels, ensuring complete process reliability. If you require similar laser-welded products and components, please contact our sales team directly.
New automated punching and bending machine with 60-ton punching pressure available for production use from July 2016.
In order to meet demand for larger and/or thicker-wall punched and bent components, we decided to invest in another new punching and bending system. The system will be available for production use starting in July 2016 and contains an upgraded pressing unit with punching pressure of up to 60 tons. This system, custom designed to our specifications, allows us to implement our own BKM-standard simplified and proven linear tool concept. This will represent a significant enhancement of our range of punched and bent components. Our sales team is on hand to provide you with any further information you would like.