Current information on the Corona virus (COVID-19)
We at BKM take the current situation very seriously.
We have initiated a variety of measures to protect our employees:
Mobile Office
Dynamic employee communication
Adjustment of shift models
And others
At the same time, the measures taken are intended to help prevent the general situation in the health care system from becoming an additional burden. In addition, we can thus also ensure our ability to deliver to our customers as well as to those interested in our services.

BKM has been a climate-neutral company since 2020
Climate change is the greatest challenge facing humanity since the end of the Ice Age and is the defining task of our time. The consequences of global warming are becoming more and more tangible and the pressure on politicians and companies – not least through the Fridays for Future movement – is increasing. There is now a global consensus that we urgently need to counteract man-made climate change.
The success of emission reductions depends to a large extent on voluntary and consistent action by industry in the industrialised countries. Thus, we at BKM are also prepared to take responsibility for the world we leave to our children and grandchildren.
BKM participates in the reforestation of forests in South America to neutralise climate damage. High-quality and durable wood products are planted, which store large amounts of carbon dioxide from the atmosphere. This measure has a worldwide effect, because climate change is global and greenhouse gases are evenly distributed in the atmosphere. Only the sum of the greenhouse gases is decisive worldwide, not the place where the CO2 emissions are emitted or saved.
For us as a metal processing company, this step was of enormous importance. We want to push ahead with our action plan to further reduce CO2 emissions in the coming years and implement it sustainably.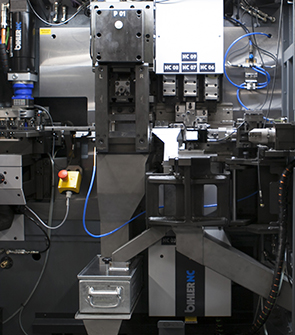 Expansion of the Bihler machine landscape
The excellent cooperation between Bihler and BKM is being expanded with three additional RM40K machines. This investment allows more flexibility in our manufacturing processes. With existing BNC 2 servo production systems, BKM has made the switch from mechanical MRP machines to high-performance Bihler servo technology. This increases our performance by more than 50 percent – and secures us a decisive competitive advantage in the long term.
The best example is the production of a stirrup made of prehardened strip steel, which is now manufactured at 290 strokes per minute instead of 150. At the same time, we can reduce set-up times from often several days to an average of 3 hours.
The servo-controlled drives of the new lines guarantee the required precision and ensure reliable, consistently perfect product quality, which is also even higher than before. We also assume that the BNC 2 lines will pay off even for quantities of more than 500,000 pieces per production batch. At the same time, thanks to the short set-up times, smaller series can also be produced profitably in between.
This gives us enormous flexibility in order processing, while at the same time reducing storage costs.
New plant in Hungary
Since 2018, we have also been supplying our customers from our plant outside the Hungarian capital Budapest. With our own tool shop and experienced employees, we can guarantee the same quality here as at our German locations. Thanks to good access to skilled workers and close cooperation within our group, we are thus continuing the strong growth course of recent years. Of course, this location is certified according to IATF 16949, just like all three other locations. With this step, BKM can establish itself as an international supplier of high-precision stamped and bent parts.
Continuous improvement of our quality system with our partners Babtec and Keyence
We have introduced the latest CAQ software from the leading supplier Babtec at all four locations and thus further improved our quality system.
In combination with the Keyence measuring technology used at all locations and the continuous introduction of in-line camera controls, we are able to meet the most stringent quality specifications according to automotive standards even better than before.